The Palace of Illusions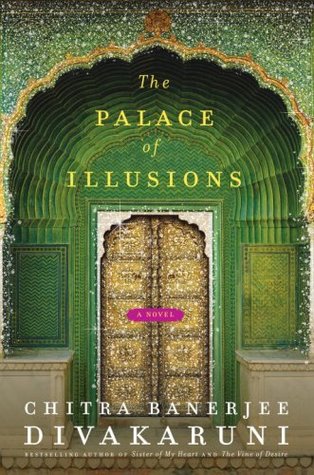 A woman with five princely warrior husbands–how cool is that? I didn't read this book; I listened to it. I borrowed it from the local library while recovering from a vitrectomy (an eye operation). The two-week tedious down time—I literally had to keep my gaze on my feet—became so much more bearable. The dramatic reader was a delight and I appreciated the story more.
Chitra Banerjee Divakaruni draws from Indian lore and culture in most of her books. In Palace of Illusions, her source is the ancient Indian epic Mahabharata. All I know of this epic is that it's about a war, and it's the longest ever written.

Ancient lore could have several variations. Divakaruni's version is a feminist's take, as you might expect. Draupadi, the woman with five husbands, is at its center. This is an important detail. It tells you right away she's strong and powerful, the equal of her five princes put together.
The focus of the story is, of course, the war, a subject I'm often not interested in. Except when it's great literature, as in this case. Or it's great film, like Francis Ford Coppola's Apocalypse Now or Ralph Fiennes production of Shakespeare's Coriolanus.
Worthy films and books often have underlying universal themes. As Palace of Illusions does. It's an allegory on the ravages of war, always a depressing topic.
I discovered Ms. Divakaruni through this book, and now she's one of my favorite contemporary writers. The other one is Anthony Doerr.
Mistress of Spices

In this novel, Divakaruni's prose is what stood out for me. As sweet and spicy, as teasing and searing as poetry. Open to almost any page. You'll find a passage there where words just seem to dance on your tongue. Oh, to be able to write like this!
Behind the obvious story of a woman inhabiting creaky bones, old dry skin, and magical powers to heal, is an allegory. Of the heavy, sometimes cultural, shackles on women. Of how the ones with strong enough passions can overcome them. In this story, the cultural taboo is forbidden love.
As much as I liked this book, I liked The Palace of Illusions better. The latter does have a more exciting, absorbing epic feel to it.